[vc_row][vc_column][vc_column_text]
Happy 2018!!!!
At Hidalgo we start 2018 with great enthusiasm and enthusiasm for all the celebrations and all the surprises that are yet to come!!
As the first big news, we are organizing a Great Valentine's Theme Dinner!!![/vc_column_text][vc_column_text]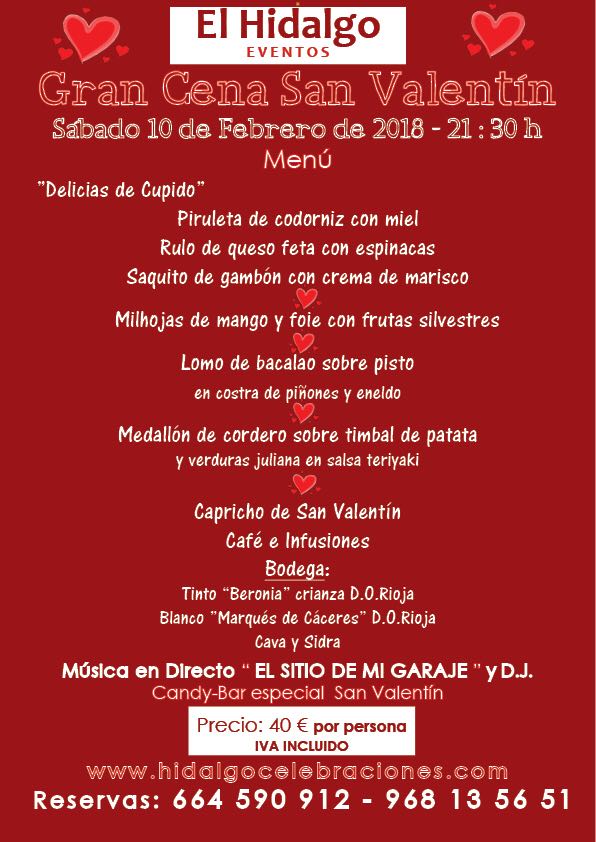 Our Valentine's dinner will take place on Saturday February 10th!!!
All attendees will be able to enjoy a delicious menu designed by our chef and, afterwards, the spectacular performance of the great group "My Garage Site" and our DJ Galindo.
In addition, during dinner we will hold the raffle for a magnificent cruise!!!
There are many surprises that we are preparing and it is that, without a doubt, it will be a unique night!!!
[/vc_column_text][/vc_column][/vc_row][vc_row][vc_column][vc_column_text]
For reservations or more details, do not hesitate to get in touch!
[/vc_column_text][/vc_column][/vc_row]